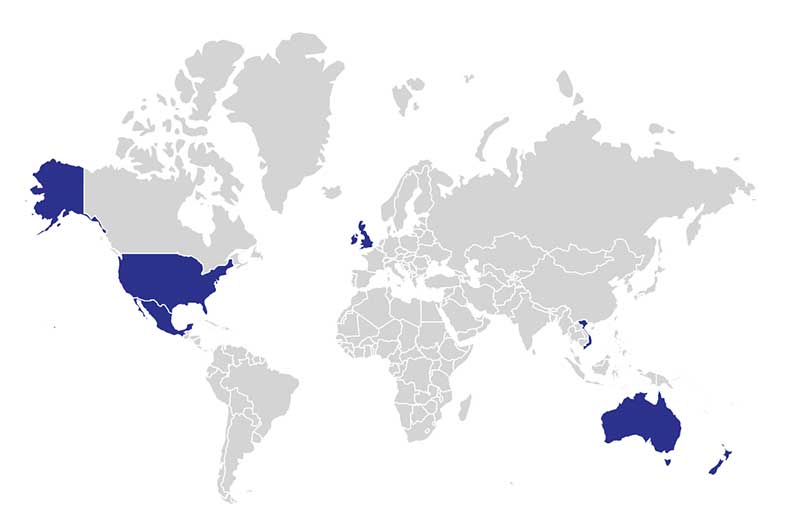 Active commercial dog racing tracks

Following the passage of our ballot question in late 2018, the tracks of Florida have finally begun setting the greyhounds free. Plus more than 500 greyhounds were released from Macau when the track there was forced to close last summer. But 50,000 innocent hounds at 116 remaining tracks still need your help right now! Please sign and share our petition to help generate individual emails to the leaders of all commercial dog racing countries.
Commercial dog racing exists in seven countries
Varying forms of dog racing, commercial and non-commercial, regulated and non-regulated, exist in several countries.
There are twenty-one countries in which dog racing occurs but may or may not have reached a commercial stage. When considering whether the racing of greyhounds qualifies as "commercial," we look at several criteria including whether a law has been passed that authorizes gambling on the speed and/or ability of greyhounds, the existence of a regulatory structure, the physical presence of racetracks, evidence of gambling, whether the host state or subdivision shares in any gambling proceeds, fees charged by host locations, the use of professional racing kennels, the number of dogs participating in races, the existence of an official racing code, and membership, if any, in a greyhound racing federation or trade association.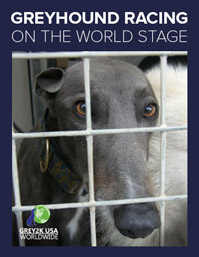 Did you know that greyhound racing spells suffering and death for nearly 50,000 greyhounds all across the globe every year? Dogs are forced to live in tiny cages, deprived of vet care, drugged, starved and abused, then many are simply killed.
Read our international dog racing fact sheet to learn more about this cruel industry.
The following is a list of countries in which other forms of dog racing has recently occurred, occurs now, and/or is scheduled to occur as of November 2013:
Non-Commercial Dog Racing
There are currently 21 countries in which non-commercial greyhound racing takes place. GREY2K USA Worldwide does not currently have a position for or against non-commercial dog racing, and this data is presented for informational purposes only.
Greyhound Simulcasting
At least 31 countries/territories conduct greyhound simulcasting. Greyhound tracks broadcast their races to locations across the world, where bettors are able to place wagers on those greyhound races remotely.
Take action to save greyhounds
More ways to help racing dogs