Greyhound racing is in decline
Greyhound racing is a dying industry. Since GREY2K USA Worldwide began its national campaign in 2001, more than two dozen American dog tracks have closed or ceased live racing operations. In the country which invented modern commercial greyhound racing, there are now only 17 dog tracks remaining in six states. This decline is due to increased public awareness that dog racing is cruel and inhumane, in addition to competition from other forms of gambling. Visit our state-by-state page for more information.
Gambling on dog racing continues to decrease
Between 2001 and 2014, the total amount gambled on greyhound racing nationwide declined by 70%. This includes gambling on live dog racing and simulcast gambling, where bettors wager remotely on races that take place elsewhere.
At the same time that overall gambling on dog racing is declining, a trend toward simulcast gambling continues. In 2014, just over three-quarters (75%) of all wagers on dog races were made by simulcast or advanced-deposit wagering.
Total Amount Gambled on Greyhound Racing in the United States, 2001-2014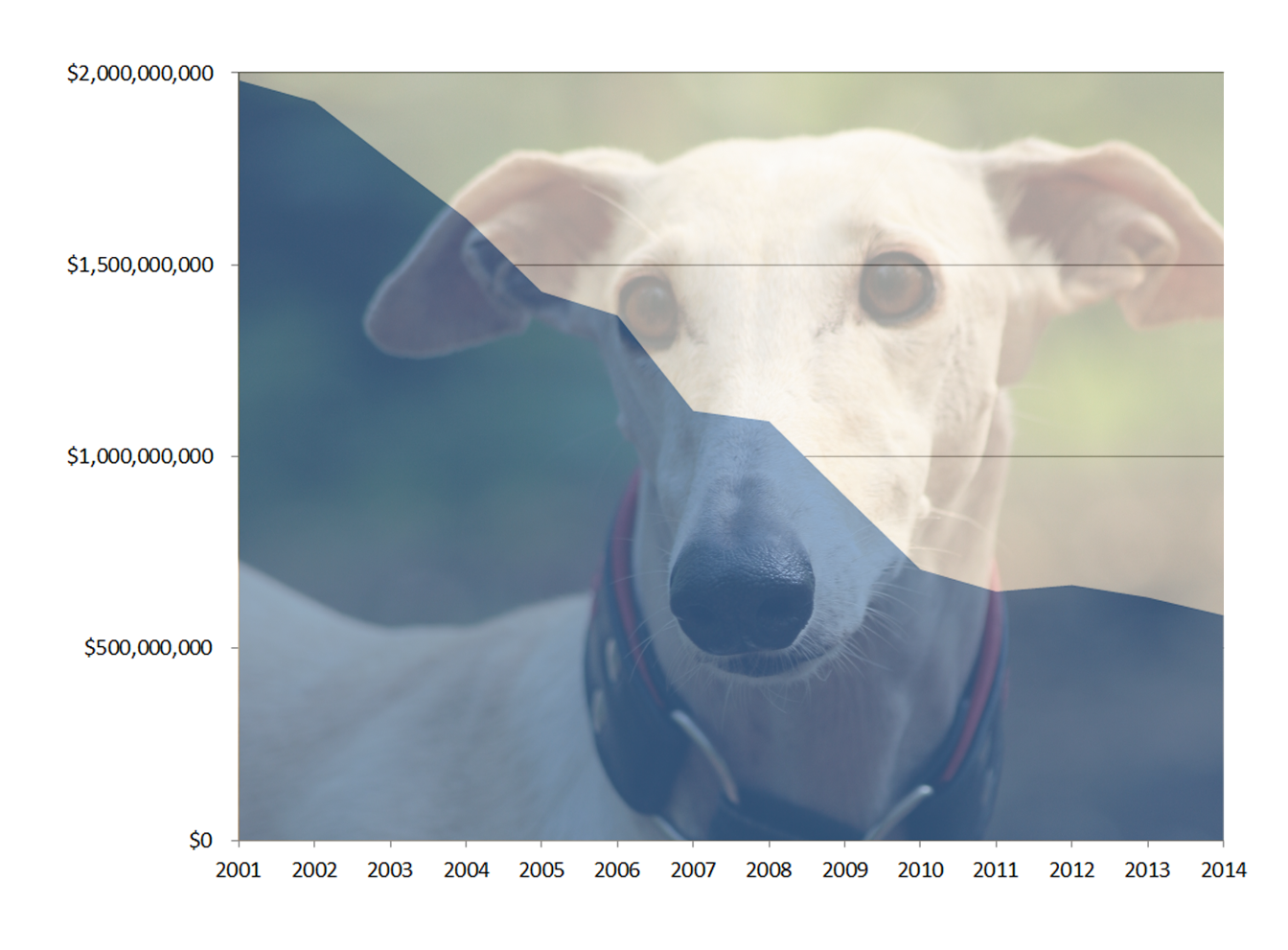 Dog tracks are closing around the world
Greyhound racing has run its course. In 2017, tracks shut down in Australia, Ireland, the United Kingdom, and the United States. Macau's deadly Canidrome, the last legal dog track in China, held its last race on June 30, 2018. It was completely closed down on July 21, 2018 and the International Centre for the Rehoming of Greyhounds created to care for its 650 greyhounds.
Read our full report "High Stakes" on dog racing in the United States (PDF)
View our Dying Industry Fact Sheet (PDF)
Take action to save greyhounds
More ways to help dogs