17 Tracks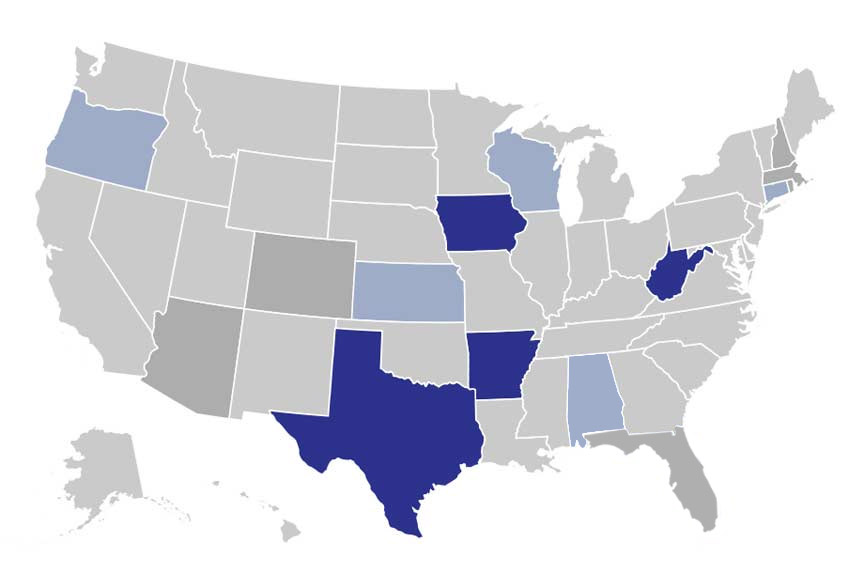 Active dog racing tracks

No tracks, dog racing still legal

Recent dog racing states, now illegal

Dog racing is illegal
In forty U.S. states, commercial dog racing is illegal.
In four states, all dog tracks have closed and ceased live racing, but a prohibitory statute has yet to be enacted. Those states are Oregon, Connecticut, Kansas and Wisconsin.1
In just six states, pari-mutuel dog racing remains legal and operational. These states are Florida, West Virginia, Alabama, Arkansas, Iowa and Texas.2
The following are the most recent states to pass legislation prohibiting dog racing: Maine (1993), Virginia (1995), Vermont (1995), Idaho (1996), Washington (1996), Nevada (1997), North Carolina (1998), Pennsylvania (2004), Massachusetts (2010), Rhode Island (2010), New Hampshire (2010), Colorado (2014) and Arizona (2016). The United States Territory of Guam also outlawed commercial dog racing in 2010.
Since our formation in 2001, the dog racing industry has been diminished by nearly two-thirds. Altogether, twenty-nine tracks have ended dog racing and most have closed entirely: St. Croix Meadows (WI), Pueblo Greyhound Park (CO), Apache Greyhound Park (AZ), Multnomah Greyhound Park (OR), Plainfield Greyhound Park (CT), Geneva Lakes Kennel Club (WI), Post Time (CO), Shoreline Star (CT), Cloverleaf Kennel Club (CO), Jacksonville Kennel Club (FL),Tampa Greyhound Park (FL), Wichita Greyhound Park (KS), Corpus Christi (TX), Mile High (CO), The Woodlands (KS), Hinsdale Greyhound Park (NH), The Lodge at Belmont (NH), Seabrook Greyhound Park (NH), Wonderland Greyhound Park (MA), Guam Greyhound Park (Guam), Phoenix Greyhound Park (AZ), Raynham Park (MA), Dairyland Greyhound Park (WI), Twin River (RI), VictoryLand (AL), Jefferson County Kennel Club (FL), Bluffs Run (IA), Tucson Greyhound Park (AZ), Mobile Greyhound Park (AL) and Flagler Greyhound Track (FL).
In addition to live dog racing, greyhound simulcast betting exists in several states including Arizona, Colorado, Connecticut, Idaho, Louisiana, Massachusetts, Montana, Nevada, New Hampshire, New Mexico, North Dakota, Oregon, Rhode Island, South Dakota, Texas, Wisconsin and Wyoming.3 In these states, gamblers are supporting the dog racing industry even though there is no active dog track in their community. Similarly, these simulcast signals depend on the existence of dog tracks in other states.
View the Greyhound Racing in the United States Fact Sheet (PDF)
Learn about dog racing around the world
See humane issues in dog racing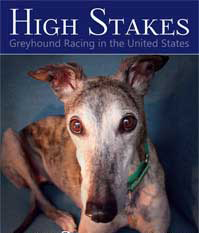 GREY2K USA Worldwide released the first comprehensive report on the humane and economic aspects of greyhound racing in the United States.
Read our report for an in-depth look inside this cruel industry.