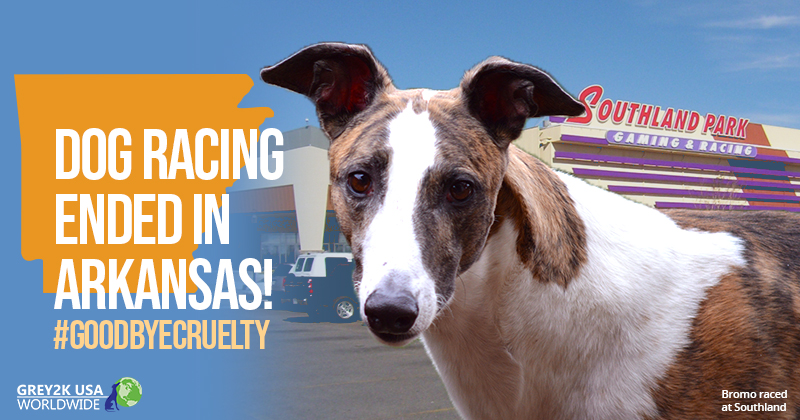 There are no dog tracks in Arkansas. Southland Greyhound Park in Memphis was the only operational track in Arkansas, but ended live dog racing in 2022. Greyhound racing remains legal in the state, however, as a prohibition has not yet passed into law.
The state first legalized dog racing in 1957 and Southland was among six new American tracks that opened in the 1950s. But its debut was marred by the electrocution of a greyhound during a promotional race, which added to the bitter opposition of local media to the new track. For years, Memphis newspapers would not accept paid advertisements from the facility. 1
Sadly, thousands of greyhounds suffered injury and death at Southland for years. Some dogs broke their necks, died of shock or heat exhaustion, while others snapped their legs and were summarily destroyed. Greyhounds also tested positive for cocaine and other illegal drugs, suggesting race fixing.
In 2013, the total amount wagered on live greyhound racing in the state was $18,376,901.10.2 This represented a decline of roughly forty-five percent since 2005, when the handle was $33.5 million.3 In October 2019, following years of financial losses and citing Florida's decisive vote to prohibit dog racing, the owners of Southland announced an immediate phase-out of greyhound racing.4 The final dog race was held on December 31, 2022.
Greyhound racing in Arkansas was regulated by the Arkansas Racing Commission. The agency enforced the state's racing rules and regulations, which included provisions for racing procedures, licensing and duties of commission veterinarians.5
Featured Arkansas Video