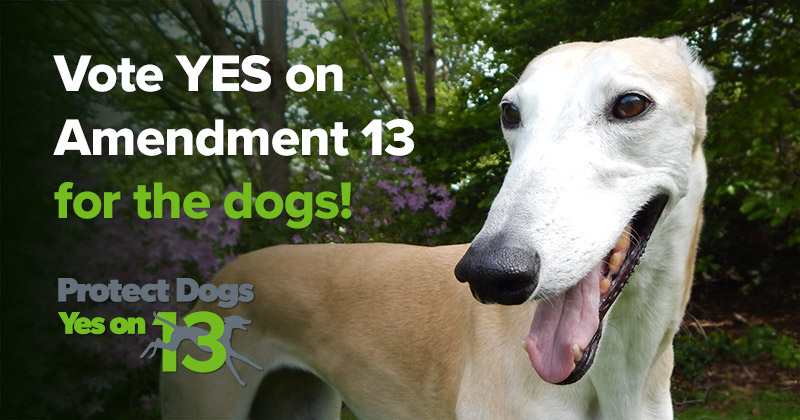 Florida voters will decide the fate of dog racing on the ballot this coming November!

Florida was the first state to authorize pari-mutuel wagering on dogs, this in 1931. There are now eleven operational greyhound tracks in Florida, including tracks with seasonal racing as well as those which conduct year-round live racing. By law, the holders of dog track licenses are required to offer at least 100 live racing performances each year. In Fiscal Year 2016, there were a total of 3,369 performances each comprised of 8 to 15 races, amounting to 44,364 total races.1 It is estimated that 7,000 greyhounds are housed at track kennel compounds across the state.2
Greyhound racing in the state is regulated by the Florida Department of Business and Professional Regulation. In May 2013, GREY2K USA lobbied successfully for an animal welfare rule that contained several greyhound provisions and required that all greyhound deaths that occur at track facilities be reported.3 Additionally, a Seminole County ballot question resulted in regulation which requires Sanford Orlando Kennel Club to report all greyhound injuries. However, Florida remains one of two states, along with Alabama, where greyhound injury reporting is not mandated.
In Fiscal Year 2016, the total amount gambled on live racing at Florida dog tracks was $87,003,278.4 This amounts to a decline of 56.6% since 2006.5
Learn more about dog racing in other U.S. states