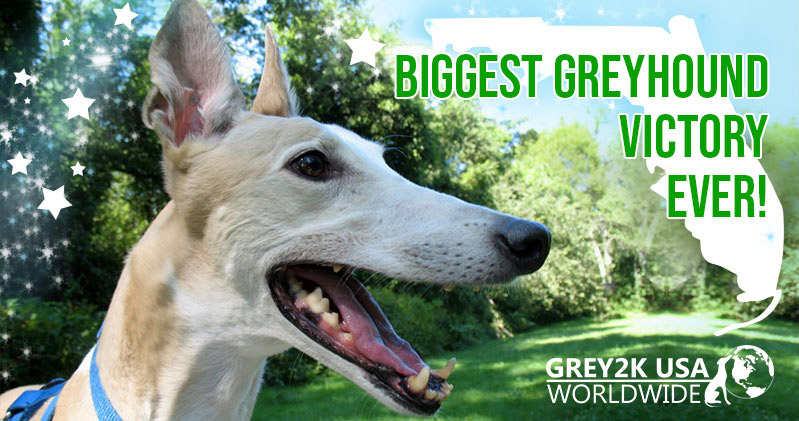 On November 6, 2018 Florida citizens voted 2-1 to prohibit dog racing and thousands of greyhounds got the second chance they deserved!
Read the timeline to victory and learn how you can sponsor a hound as tracks continue to close in other US states and worldwide.
Making History
Casino.org - Florida Greyhound Kennel Can't Claim Compensation for Racing Ban
Houston Chronicle - Gulf Greyhound Park converts to a concert venue in La Marque
Casino.org - Greyhound Racing's Lawsuit Challenging Florida Ban Thrown Out of Court
Naples Daily News - Bonita Springs city councilors report pitch for amusement park at former dog track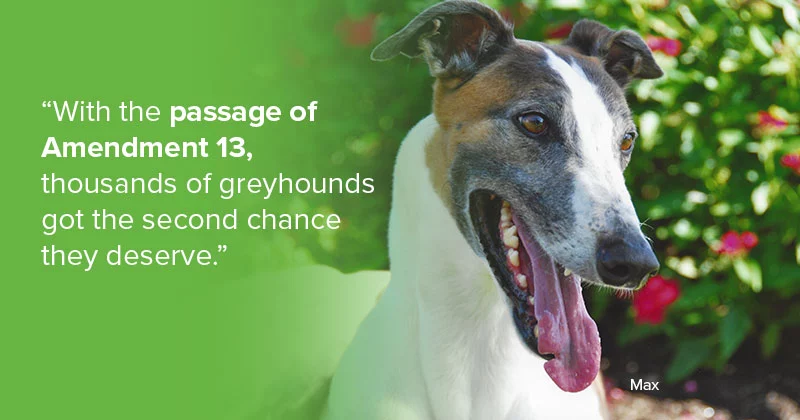 The New Barker - Read about the history of dog racing in Florida and the campaign to pass Amendment 13 in the New Barker.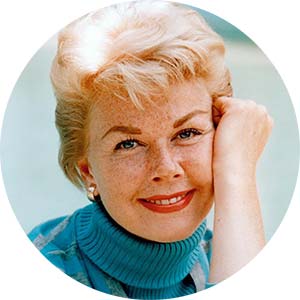 Thanks to Doris Day for endorsing the Protect Dogs - Yes on 13 campaign to phase-out dog racing in Florida!

In 1931, Florida became the first state to authorize pari-mutuel wagering on dogs, and it is now home to two of the seven dog tracks nationwide. Racing dogs are kept confined in small, stacked cages for 20-23 hours a day and fed a diet based on raw 4-D meat. Over the past decade, over 400 greyhounds have tested drug-positive at tracks across the state, including 68 cocaine-positives. When let our of their cages to race, these gentle dogs face the risk of serious injury and death. In fact, according to state records, a dog dies every three days at a Florida racetrack.
GREY2K USA Worldwide was the chief sponsor of Amendment 13, a constitutional amendment to prohibit dog racing and close down the twelve tracks of Florida. The old Miami track, Flagler Greyhound Park, chose to shut down before the vote. The question was approved by a margin of 69% to 31% on the statewide ballot on November 6, 2018 and triggered a 26-month phase-out of live racing through December 2020. Thousands of dogs will now receive the second chance they deserve. Florida was truly the hub of dog racing worldwide. It was the first place in the world to legalize commercial dog racing, and we believe that the passage of Amendment 13 signals hope for greyhounds everywhere.
By law, the holders of dog track licenses were required to offer at least 100 live racing performances each year. In Fiscal Year 2016, there were a total of 3,369 performances each comprised of 8 to 15 races, amounting to 44,364 total races.1 As of October 2018, there were 3,700 greyhounds registered at track kennel compounds across the state.2
Greyhound racing in the state was regulated by the Florida Department of Business and Professional Regulation (DBPR). In May 2013, GREY2K USA lobbied successfully before the agency for an animal welfare rule that contained several greyhound provisions and that required the reporting of greyhound deaths at all tracks statewide.3 Additionally, a 2016 Seminole County ballot question brought by GREY2K USA's Committee to Protect Greyhounds resulted in a one-of-a-kind regulation which required the Sanford Orlando Kennel Club to license individual greyhounds and to publicly report all racing injuries.4 No other Florida dog tracks ever disclosed this information, which undoubtedly impacted efforts to educate voters about the cruelty of dog racing. In the end, new DBPR records showing that a greyhound died every three days prompted voters to order the shut down of all dog racing by December 2020.5
In Fiscal Year 2016, the total amount gambled on live racing at Florida dog tracks was $87,003,278.6 This amounts to a decline of 56.6% since 2006.7
Learn more about dog racing in other U.S. states