There are no operational dog tracks in Texas. Valley Race Park, Gulf Coast Racing and Gulf Coast Racing all closed following catastrophic financial losses. Greyhound racing remains legal in the state, however, as a prohibition has not yet passed into law.
Starting in November 2016, each of the state's tracks agreed to host thirty-six live race meets from November through February, once every three years.1 This allowed them all to continue offering lucrative simulcast wagering without bearing the losses of live racing. But on June 30, 2020, Gulf Greyhound Park, the track which had actually hosted all live races since 2017, announced its immediate closure.2 Seeing no way to offer live racing again, the Texas Greyhound Association wrote to the state Racing Commission, "There is no uncertainty any longer; it is a simple fact that no greyhound races will run live in Texas in the foreseeable future."3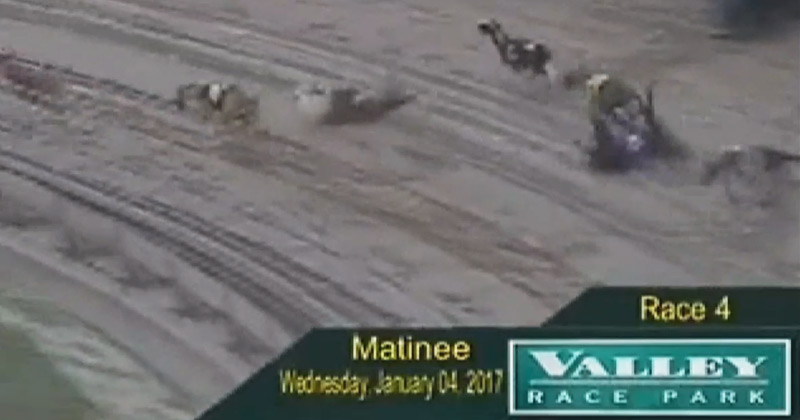 Four greyhounds collide during a race in Texas. (Valley Race Park)
Greyhound racing had previously ceased in Texas with the closure of Gulf Greyhound Park in December 2015.4 However, by virtue of a deal between the industry and the Texas Racing Commission, a rotating schedule was implemented which permitted the racetracks to exploit a legal technicality allowing for year-round simulcast wagering at all three racetracks.5 According to Texas Rules of Racing Chapter 321, a license to operate a pari-mutuel racetrack "includes as a part of its privileges the privilege of conducting pari-mutuel wagering on simulcast races."6 As long as tracks have been granted race dates in the future, even three years in the future, they can legally offer more lucrative simulcast wagering on dog races taking place elsewhere.