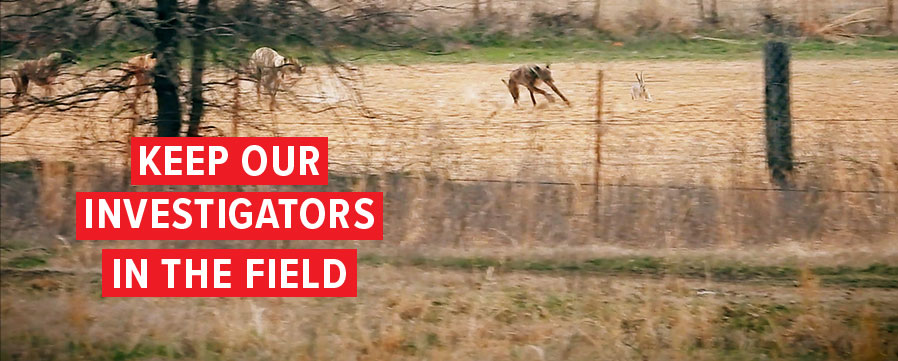 In June 2021, a GREY2K USA investigator caught kennel operator John E. Lashmet, three adults and a child live lure training on his broken down farm in Greeley, Colorado. In less than one hour, the 67-year-old greyhound breeder released five rabbits to be chased, mauled and then torn apart by fifteen greyhounds. Lashmet is one of the largest and most successful greyhound breeders in the US and his dogs race in multiple states and at the Agua Caliente track in Mexico. They have been in business for decades, but their cruel practices were never exposed until now. John Lashmet no longer has a license in the state and we are now seeking criminal charges against him.
As a result of our 2020 surveillance operations, greyhound breeders in Arkansas, Kansas and Iowa also lost their licenses. Even more, federal lawmakers filed the US Greyhound Protection Act to outlaw dog racing nationwide and shut down live lure training operations across the country. Our investigations are saving lives and shutting down a terrible industry. Please help with a generous donation to our Live Lure Investigation Fund today. For a gift of $100 or more we will send you a beautiful Greyhound Freedom Wall Clock. Measures 10 in x 10 in.
What is live lure training?
"Live lure training" also known as "jacking" or "blooding" refers to the use of small animals, commonly rabbits, to excite and enhance a chase instinct in young greyhounds. Typically, screaming animals are dangled before greyhounds, dragged in front of them on ropes, or simple set loose to be attacked. These fragile animals often suffer cruel and miserable deaths.
Live lure training exposed in Colorado
Video footage obtained by GREY2K USA has revealed the dirty little secret of the dog racing industry