Give now to save greyhounds
Receive our campaign kit with a donation of $75* or more
Contributions can also be made by check or money order. Please complete our mail-in contribution form (PDF) and send it with your donation.

THE CAMPAIGN KIT
Show the world you support an end to dog racing!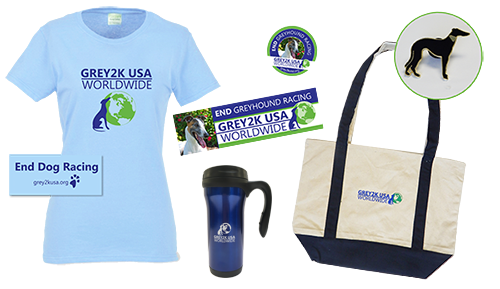 With your gift of $75 or more you will receive our campaign kit including a t-shirt, button, bumper sticker and tumbler in a canvas tote bag, all emblazoned with the GREY2K USA Worldwide logo.
For $90 or more we will include a stylish enamel greyhound pin!
GREY2K USA Worldwide is a non-profit 501(c)4 advocacy organization located at 7 Central Street, Arlington, Massachusetts 02476. 100% of donations support our mission to end dog racing, pass greyhound protection laws and promote greyhound adoption. We are grateful for personal and corporate contributions. Because GREY2K USA lobbies for greyhound legislation, contributions are not tax deductible.