Be a Sweetheart for the Greyhounds!
Just in time for February 14, be a sweetheart for the greyhounds and also share a beautiful gift with someone you love.
Look below to see our brand new "Furry Valentine" cards and magnet set, GREY2K USA pendant necklace and greyhound key chain, our baby greyhound dolls and of course our one-of-a-kind greyhound-shaped chocolates. And don't forget to use Gracie postage stamps on all your greetings this year!
If you'd prefer to send a donation as a gift, please sign up for our monthly donation program or nominate a friend or family member for an honorary or memorial gift. All gift recipients will receive a complimentary Furry Valentine card.
Another neat way to please your Valentine and help the greyhounds is to order flowers through the iGive Charity Mall. A percentage of every purchase becomes a donation to GREY2K USA. Please log in at iGive.com and type in "GREY2KUSA" as your cause!
Remember, Valentine's Day is right around the corner, and even as we continue fighting for greyhounds, now is a great time to celebrate our love for these wonderful and gentle friends.
Every order received will further our efforts to end dog racing nationwide. Please be generous to yourself and generous to the greyhounds this year.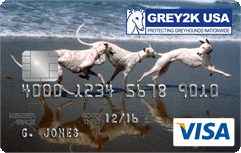 Happy Valentine's Day!

P.S.: Don't forget that you can use your GREY2K USA credit card, available in five designs, for all of your shopping needs. GREY2K USA receives a $50 donation for each activated card, and all subsequent purchases generate a "greyt" campaign gift for GREY2K USA! The greyhounds will thank you!

Click on any item below to order yours today or visit our Shop page to see all of our available gifts, including T-shirts, custom artwork and more!