** PLEASE FORWARD & CROSS-POST **
Greyhound Racing to End in Wisconsin!
Dear Friends,
Officials of Dairyland Greyhound Park have announced that the track will host its last race on December 31, bringing an end to dog racing in the state of Wisconsin. Even better, the majority of dogs will be made available for immediate adoption.
What a way to start the new year!
Wisconsin was once home to five dog tracks, and the closure of Dairyland had long been predicted. We are glad to finally share the good news. To read the history of dog racing in Wisconsin, and see our latest injury report, click here.
Help celebrate the end to dog racing in Wisconsin, as well as other recent closures in Colorado, Connecticut, Florida, Kansas, Massachusetts, New Hampshire, Texas and Oregon by ordering one of our new Greyhound Advocates Calendars. The GREY2K USA calendar starts right away, and covers fourteen months from November 2009 to December 2010.
Get one now and you will also read about the many victories accomplished for the greyhounds, month by month, since our formation in 2001. Even better, you will meet the many wonderful dogs saved as a result.
Each month we feature two special dogs, like Fable and Sweetie Pie. Both of these beautiful dogs were rescued from breeding farms and now live with families in New Hampshire and Florida respectively.
Please click here to get your calendars now!
For the greyhounds,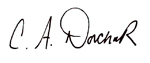 Christine A. Dorchak, Esq.
President