Another Victory for the Greyhounds!
Today, New Hampshire Governor John Lynch signed into law House Bill 630, a humane proposal to prohibit greyhound racing in his state. This is an historic victory, and another milestone in our national effort to end the cruelty of greyhound racing!
Click here to read today's press statement.
Amazingly, this victory comes on the heels of news that the Kansas Racing and Gaming Commission has just revoked the licenses of all dog tracks in the state. We also bring you more good news from Guam, where a bill to make dog racing illegal has passed unanimously and is on its way to the Governor for signature. Thanks to Senator Thomas Ada and Guam Animals in Need for leading the fight!
In New Hampshire, humane advocates fought for an end of greyhound racing for nearly a decade, and today's signing is proof that perseverance can overcome even the most challenging opposition. At the end of the day, the money and muscle that was used by dog track owners to protect the cruelty of greyhound racing was overcome by your positive efforts.
For generations, greyhounds have suffered and died in New Hampshire. During the final debate over House Bill 630, Senator Sheila Roberge highlighted one of these dogs, a one-year-old greyhound named Amber. Sadly, Amber died in her first-ever race at Seabrook Greyhound Park in 2006, when she ran into the racetrack rail and suffered massive brain damage. Today's signing means that greyhounds like Amber will never again suffer at New Hampshire racetracks.
Finally, please remember that these victories are only possible because of your continued financial support. Without your help, we would not be able to work with lawmakers and other opinion leaders to fight for the greyhounds. Please help ensure these victories continue by making a contribution today. Whether it is $10, $100 or even $1,000, every donation will be immediately used to fund our ongoing campaigns.
The greyhounds cannot speak for themselves, and are counting on us to be their voice.
For the greyhounds,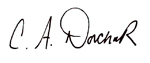 Christine A. Dorchak, Esq.
President
P.S. Due to popular demand, our summer photo contest will now run through July 31! Please take this extra time to enter your dog now. Winners will appear on GREY2K USA's official credit cards!