** PLEASE FORWARD & CROSS-POST **
Greyhounds Win in Three States!
Dear Friends,
Just after noon yesterday, the world got a little brighter for greyhounds! Following successful votes in Massachusetts and Rhode Island on Tuesday, New Hampshire lawmakers voted to make dog racing illegal on Wednesday!
New Hampshire
Granite State Senators fought off the dog tracks one more time and approved a prohibition on dog racing by a nearly unanimous vote. Yesterday, just after twelve noon, Senators listened to the moving words of Senator Sheila Roberge and joined together to make dog racing illegal in the state.
In her floor speech, Senator Roberge told the story of a one-year-old greyhound named Amber who died at Seabrook. Born on a breeding farm, she was brought to Seabrook in 2006. On April 22 she ran into the rail and crushed her skull. Amber died instantly in what was not only her first, but her last, greyhound race. Amber was one of nearly 1,200 dogs injured while racing in New Hampshire's last racing seasons of 2005-2008.
Click here to listen to Senator Roberge's speech on YouTube.
Many people fought extremely hard to defeat a last minute attempt by dog track lobbyists to derail this bill.We particularly wish to thank Senators Sheila Roberge, Bob Odell, and Harold Janeway, as well as Representative Mary Beth Walz for their help on the morning of the vote.
Join us by congratulating each of these wonderful lawmakers—please let them know what a "greyt" job they did yesterday!
Senator Roberge
(603) 472-8391
sheila.roberge@leg.state.nh.us
Senator Odell
(603) 863-9797
bob.odell@leg.state.nh.us

Senator Janeway
(603) 271-7585
harold.janeway@leg.state.nh.us
Representative Walz
(603) 225-1968
mb.walz@leg.state.nh.us
Massachusetts
Much to our dismay, we recently learned that a nearly 200-page casino bill contained language requiring racetracks to offer simulcast dog racing from other states. This language had been inserted despite the overwhelming citizens vote of 2008 prohibiting betting on dog racing in Massachusetts!
With only forty-eight hours to find sponsors and file a corrective amendment, we drafted language—which two wonderful House members then agreed to introduce!
More than that, Representatives Cheryl Coakley-Rivera and David Linsky, joined by Representative John Scibak, personally fought for the greyhounds and thankfully the Massachusetts House approved our amendment! Our greyhound amendment was one of only a handful to be approved during a two-day debate on Beacon Hill.
Please take the time to thank each of these lawmakers for helping the dogs:
Representative Cheryl Coakley-Rivera
(617) 722-2014
Rep.CherylCoakley-Rivera@Hou.State.MA.US

Representative David Linsky
(617) 722-2575
Rep.DavidLinsky@hou.state.ma.us

Representative John Scibak
(617) 722-2370
Rep.JohnScibak@hou.state.ma.us
Rhode Island
The Rhode Island House also helped the greyhounds this week by approving a legal prohibition on live dog racing in the state. Representatives approved a state budget that included this important language!
The Senate has also approved a budget that includes an end to dog racing, but its version is different in other aspects. Therefore, the two versions will have to be reconciled. Stay tuned for more information as this situation develops.
*************************************
With Rhode Island still in limbo, there are eight remaining states where dog racing is legal and operational. We will keep working as long as we have your support to continue this fight.
Please consider making a donation to these heartfelt efforts. We are now offering special new items in our Gift Shop, and every purchase made will directly support our campaigns. Visit our Gift Shop and buy yourself a campaign t-shirt, button or some of our new dog bandanas, collar charms or jewelry to help spread the word that dog racing must end!
For the greyhounds,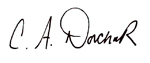 Christine A. Dorchak, Esq.
President