Dear Friends,


The GREY2K USA Education Fund is the 501(c)3 sister of GREY2K USA and offers two main programs that need your support now.

Our free Greyhounds in the Library program links young kids with adoption groups across the country. Featuring a reading with a greyhound from the illustrated book Pele's Forever Home, each visit is intended to help kids learn to read and to appreciate the beauty of greyhounds.  Participants receive a free hardcover book and a "Save the Greyhounds" wristband.

Greyhounds in the Classroom is a dynamic, free presentation for grades 5-12 to help introduce young people to greyhounds and teach them about the cruelty of dog racing. The presentation covers: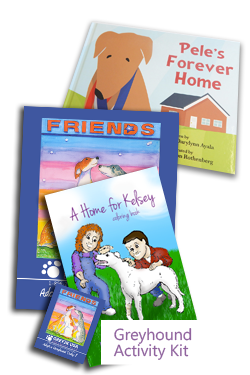 The history of the greyhound
The realities of racing life
The joys of adopting a greyhound!
Information is provided about local adoption opportunities, and each child receives a free adoption magnet, coloring book and poster.  But funds are urgently needed now so we can order more supplies for these programs.  

Thankfully, author Darylynn Ayala has pledged to provide us with more copies of Pele's Forever Home but the GREY2KUSA Education Fund needs $5,000 to replenish our coloring book, poster, magnet and wristband supply. We want to keep offering our popular programs to kids for years to come. Won't you please help?

$500 will pay for 250 coloring books, $250 will help us purchase 600 full color posters, $100 will provide "Save the Greyounds" wristbands to 200 kids, $50 will help us to ship kits to waiting volunteers and $25 will produce 100 full color magnets to kids.

We are receiving more and more requests each week and need your help now. Please lend your support with a tax-deductible donation or monthly pledge today!



Paula Blanchard
Board Member
GREY2K USA Education Fund

Ambassadog-At-Large
GREY2K USA Education Fund
P.S. Please also help us reach our fundraising goal by inviting your friends and family to give, too. Click on "Fundraise for this Campaign" on the bottom right here.
© GREY2K USA Education Fund. All rights reserved.

The GREY2K USA Education Fund is a non-profit 501(c)3 educational organization dedicated to the welfare of greyhound dogs. All contributions are tax deductible to the full extent of the law.

Privacy Notice: It is against our policy to share, rent, sell or make our supporter's or volunteer's names or other information available to third parties. Unless disclosure is required by law, we can assure you that your personal information will be kept confidentially by this organization.


For more information, please contact 781-488-3526 or visit www.GREY2KUSAedu.org.