** PLEASE FORWARD & CROSS-POST **
Three Big Victories for the Greyhounds!
Dear Friends,
Today, we bring you breaking news on three major victories in the fight for greyhound protection.
News from Florida
Last night, television station WEAR-TV of Pensacola, Florida, reported on a severe case of animal neglect at the Pensacola dog track. The station's report was based on a tip it received from GREY2K USA.
The details of this case are both shocking and sad. According to state records, a greyhound trainer recently surrendered her state license after investigators uncovered severe neglect involving a large number of dogs.
The greyhounds in her control were severely underfed and when state investigators entered the kennel they experienced an overwhelming smell of urine so severe it "burned the eyes." It appeared that their bedding had not been cleaned in some time. Also, according to the state reports the greyhounds in her kennel were "unenergetic, lethargic, and most just laid there not even offering a bark."
Sadly, 23 greyhounds were euthanized because their condition was so severe. To watch this TV news story, click here.
Even though these dogs are now beyond our help we are grateful that this story is being covered by the media. It is important that citizens know about the problems in the dog racing industry and this is one of the most severe cases of greyhound neglect we have seen.
News from Alabama
In a related note, Sunday's Birmingham News published a powerful guest column authored by GREY2K USA board member Jennifer Krebs. In the piece, Jennifer writes about her personal experiences in rescuing greyhounds from an Alabama racetrack and urges lawmakers to oppose efforts to prop up the dog racing industry. This is the most significant piece published so far on dog racing in Alabama and it will set the tone for continuing campaigns in that state.
News from New Hampshire
As big as these two victories are, we bring you even more exciting news from New Hampshire. A few hours ago, lawmakers in the Granite State gave the greyhounds a historic victory when a legislative committee voted 6 to 1 to support HB 630, a bill to end greyhound racing in the state. Last week, the New Hampshire House of Representatives voted overwhelmingly to pass the bill so it now goes to the full Senate to be voted on next week and then on to become a law.
With every victory like this one, we move closer to the day when dog racing will be nothing more than a sad memory.
At GREY2K USA, we work tirelessly to pass laws to protect greyhounds and end dog racing. But that's not all we do. We also work with reporters across the country to uncover greyhound cruelty cases like the one reported last night. In fact, research conducted by GREY2K USA has led to dozens of media stories about greyhound cruelty and neglect.
We are thankful for your support of this work and know that it would be not be possible without generous contributions from people like you. If you haven't done so already, please make a donation today to our Greyhound Wings fund and consider treating yourself to our new greyhound charms. All proceeds from these and other Gift Shop purchases directly support our work to end dog racing across the country.
Today is a good day for the greyhounds!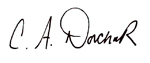 Christine A. Dorchak, Esq.
President