** PLEASE FORWARD & CROSS-POST **
Watch New Video of Greyhound Racing Injuries & Join Our Governors' Initiative
Dear Friends,
With only a few weeks left of what has been a long winter, I wanted to stop a moment and give you an update on our campaigns at GREY2K USA. Of course, we always work hard in our fight to end the cruelty of dog racing but this winter has been especially busy, with important campaigns underway in several states.
To start with, several state legislatures are considering bills to end dog racing:
In NEW HAMPSHIRE, our legislative agent Nancy Johnson, along with board members Michael Trombley and Paul LaFlamme are fighting hard to pass the Greyhound Protection Act, which will make dog racing illegal in the Granite State. This humane bill has already been approved by the House of Representatives and is awaiting further action.

In ARIZONA, a bill has been filed to end dog racing at Tucson Greyhound Park, the last remaining dog track in the Grand Canyon state. I spent the last week in Arizona working with volunteers across the state and am more optimistic than ever that dog racing will soon end here. Special thanks to Kari Nienstedt of the Humane Society of the United States for co-sponsoring meetings in Phoenix and Tucson.

In IOWA, we are joined by the Humane Society of the United States and other animal protection organizations in support of a measure that would end dog racing. The proposed bill has already passed a key committee and we are pushing as hard as we can to move it forward. We are fortunate to have an unlikely ally in our Iowa fight, as the bill was originally introduced at the request of racetrack owners. They are losing money on dog races and are no longer interested in racing greyhounds.
In other states, we are working to defeat proposals to prop up dog racing:
In ALABAMA, we are opposed to a measure that would prop up three dog tracks with casino gambling profits. So far, the bill has not had the support to pass and board member Jennifer Krebs is following the bill closely. GREY2K USA executive director Carey Theil also visited Alabama a few weeks ago to add our voice to what is quickly becoming a chorus of opposition.


In NEW MEXICO, GREY2K USA opposed a proposal to legalize simulcast gambling on dog racing. We were delighted when the bill was defeated because of the hard work of Animal Protection of New Mexico and Guy Clark of the New Mexico Coalition Against Gambling.
In addition to our legislative efforts, we are working very hard to educate the public about dog racing by bringing important news stories to the media:
We work as hard as we do because greyhounds are continuing to suffer. Rest assured that we will not stop working until dog racing is outlawed everywhere.
Now YOU can help, too. Please send a personal letter or e-mail for the greyhounds to the governor of every racing state. No matter where you live, your voice is needed for the greyhounds. Join our Governors' Initiative today!
It goes without saying that none of this work would be possible without your financial support. Please make a generous contribution today to support these ongoing campaigns. Then forward this e-mail to everyone you know and let them know about our ongoing fight for greyhounds.
Together, we are making a difference for the dogs.
For the greyhounds,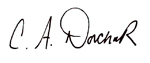 Christine A. Dorchak, Esq.
President


Video Alert:
707 Greyhounds Injured
at Wheeling Island
(Jan. 2008 to Sep. 2009)
Click to watch the video on YouTube.