** PLEASE FORWAD & CROSS-POST **

NH House Votes to Make Greyhound Racing Illegal in the Granite State!

Dear Friends,

Great news! Yesterday, greyhound advocates won another historic victory when the New Hampshire House of Representatives overwhelmingly voted to make dog racing illegal in the Granite State. This incredible vote comes only days after the Greyhound Protection Act took effect in Massachusetts, closing two dog tracks.

For years, GREY2K USA has been fighting to end dog racing in New Hampshire, and this latest victory is a testament to the hard work of many people, including State Representatives Mary Cooney, Steve Vaillancourt, Mary Beth Walz and Catherine Mulholland.

Of course, our work in New Hampshire is not yet done. The bill still has several stops to make, including a vote in the State Senate, before becoming law. We will keep you updated as this important bill advances.

In closing, we would like to thank all of the people who are helping with this important campaign, including GREY2K USA board members Jen Krebs, Michael Trombley and Paul LaFlamme, Joanne Bourbeau and our friends at The Humane Society of the United States, GREY2K USA legislative agent Nancy Johnson and volunteers Gail Cromwell, Linda Dionne, Chris Garceau and Catherine Blake.

But this victory is only the beginning. With your help, we can end dog racing nationwide!

For the greyhounds,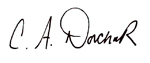 Christine A. Dorchak, Esq.
President

Christine Dorchak (center) and Carey Theil (back) celebrate the passage of HB 830 with Reps Steve Vaillancourt (R) and bill sponsor Mary Cooney (D).