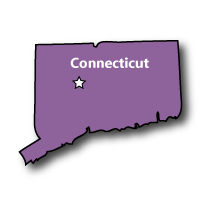 Number of Tracks: 0
Summary:
At one point there were two greyhound tracks in Connecticut. Plainfield Greyhound Park, the state's first track, opened in 1976.1 A state jai alai track was converted into the Shoreline Star greyhound racing facility in 1995. By 2005, live racing ended at both facilities after both tracks experienced years of declining attendance.2 Greyhound racing itself, however, remains legal in this state.
---
William Yardley, "As Racing Ends, What About the Dogs?" The New York Times, May 5, 2005, nytimes.com (accessed April 29, 2015).

"Attendance and Amounts Wagered at Pari-mutuel Facilities," Connecticut Department of Consumer Protection, ct.gov (accessed April 29, 2015).
How to Help
State Links
Helpful Tips


Ariel view of closed track, Shoreline Star Greyhound Park.
Image from Google Maps accessed May 5, 2015.