Take Action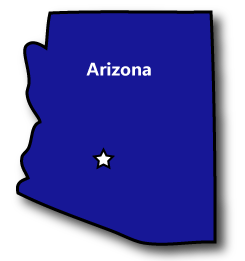 There is one remaining operational dog track in Arizona, Tucson Greyhound Park in South Tucson.

Adoption Groups
Greyhounds of the Verde Valley
Saving Greys Blog Posts
10/08/2013: - Good Greyhound News From Both Sides of the World
04/03/2013: - Are There Zombie Greyhounds at Arizona Dog Track?
3/7/2013: Arizona Dog Track Regulators Again Hide Information From the Public
8/21/2012: Tucson Dog Track Executive Accused of Deterring Employee from Reporting Abuse
8/17/2012: Arizona Dog Track Regulator Denies Cover Up, But Facts Speak For Themselves
6/7/2012 - Greyhounds Win Victories in 2012 State Legislatures
5/22/2012 - Tucson Greyhound Park Issued Warning by State Regulators on Poor Track Conditions
5/10/2012 - Greyhound Advocates Win Two Major Victories
4/24/2012 - State Inspection: Ticks "Crawling up the Wall" in Kennel at Tucson Greyhound Park
4/12/2012 - Greyhounds Still Given Anabolic Steroids at Tucson Track, Voter Law Ignored
3/20/2012 - Drug Violations Raise More Questions About Tucson Greyhound Park
3/6/2012 - State Records: Hundreds of Greyhounds Racing at Tucson Track Without Proper Rest
1/24/2012 - Will Skechers Stand Up for the Real Underdogs, or Ignore Evidence of Cruelty?
12/13/2011 - New Neglect Cases at Tucson Greyhound Park Should Give Skechers Pause
9/22/2011 - Doubletalk by Dog Track CEO Refuted by Inspection Photographs
8/16/2011 - State Records: Dogs Living in "Filthy" Conditions at Tucson Greyhound Park
7/05/2011 - The Great Equalizer: 75% of Recent HOF Greyhounds Suffer Career-Ending Injuries
2/16/2011 - Greyhound Advocates Win First Victories of 2011

Past Alerts


06/24/2013: - Great News! Greyhound reporting bill is now law in Arizona

06/17/2013: - Urgent: Greyhound bill on Gov Brewer's desk, emails needed now

06/13/2013: - Arizona Greyhounds Need Your Help Now

05/09/2013: - E-mails Needed to Help Arizona Greyhounds!

04/26/2013: - KVOA-TV reports on cocaine at Tucson Greyhound Park

8/17/2012: Arizona cover-up continues, call Racing Department today!

8/9/2012: - Arizona Racing Department cover-up, letters needed

7/30/2012: Ask for Removal of Rogue Dog Race Regulator


5/10/2012: Arizona victory for the greyhounds

4/5/2012: Arizona House votes for the greyhounds!

3/12/2012: Great news! Arizona House committee votes for the greyhounds

2/21/2012: Great news! Arizona Senate votes to help greyhounds

2/7/2012: New victory for the dogs in time for Valentine's Day

2/6/2012: Skechers biggest losers in Super Bowl, greyhounds fight on

2/2/2012: Bill filed to phase out dog racing at TGP

1/31/2012: 5 more days and 5 more ways to Boycott Skechers

1/29/2012: Skechers Boycott Protest Super Bowl Ad - Tucson, AZ

1/24/2012: Join us for national Boycott Skechers weekend

1/19/2012: Please join me for Humane Lobby Day 2012!

1/12/2012: Skechers refuses to pull ad, prizes for best "No Skechers" photo

1/10/2012: Tell Skechers that dog racing isn't funny

12/12/2011: Boycott Skechers now

11/28/2011: Tell Skechers to stop promoting dog racing

9/21/2011: Dog Track CEO Caught Lying: Watch the Video

3/24/2011: Why Arizona Dog Racing Must End

3/2/2011: Arizona Track Video Released, Greyhound Bill Passes House!

12/22/2010: Video Exposes Cruelty at Tucson Greyhound Park

12/21/2010: First look inside one of America's worst dog tracks


Past News


03/06/2014: KVOA News 4 Tucson - N4T Investigators: Time to end dog track tax break?

03/08/2014: Arizona Daily Star - Dog electrocuted during Tucson Greyhound Park race, city official says

03/09/2014: KGUN News - Caught on camera: Dog electrocuted at Tucson Greyhound Park; Activists say it's not the first

2/14/2013: Cronkite News - Tucson GM says dog racing may finally be ending

2/7/2013: Tucson Weekly - Racing correspondence reveals a conflicted agency

8/3/2012: Arizona Republic - AZ Arizona official apologizes for Facebook comments

2/5/2012: Animal Planet - Skechers Super Bowl Ad Promotes Animal Cruelty? Activists Say Yes

2/5/2012: Petrosky News - Protestors picket Sketchers over Super Bowl ad

2/3/2012: AOL News - Dog Lovers Protest Skechers Super Bowl Ad

1/30/2012: Fox News AZ - Protests against Skecher's ad shot at Tucson Greyhound Park

1/28/2012: KGUN9 TV - Super Bowl commerical shot in Tucson sparks nationwide protest

1/27/2012: Tucson News Now - Tucson protest over Skechers ad

1/26/2012: Easy Reader - Skechers Super Bowl commercial has animal activists growling

1/26/2012: Fox News - Super Bowl Ad Controversy Fox Business Piece

1/25/2012: Saving Greys - Will Skechers Stand Up for the Real Underdogs, or Ignore Evidence of Cruelty?

1/25/2012: Business Insider - This Dog Is Replacing Kim Kardashian In Skechers' Super Bowl Ad

1/25/2012: ABC Arizona - Super Bowl ad shot in Arizona causing controversy

1/21/2012: The Oakland Press - Greyhound supporters protest Skechers Superbowl ad

1/13/2012:NY Daily News - Skechers Super Bowl ad has animal activists barking mad

1/13/2012: ADWEEK - Animal Activists Bark at Skechers Over Super Bowl Spot Charges of cruelty in dog racing

1/13/2012: Pet News and Views - Skechers, the Super Bowl and Greyhounds

1/13/2012: Dogster - Greyhound Supporters Demanding Skechers Pull

1/13/2012: Best Friends Network - Not So Super Commercial

1/12/2012: Tucson Citizen - Bad branding: Skechers promotes greyhound racing

1/12/2012: KGUN9 - Skechers commercial shot in Tucson kicks up controversy

1/12/2012: AZ Central - Activists want Skechers ad pulled

1/12/2012: I Love Dogs - Skechers Super Bowl Ad Promotes Greyhound Racing

1/11/2012: Fox News Houston - Cuban Super Bowl commercial too sketchy?

1/11/2012: Media Post - Skechers In Doghouse For Super Bowl Ad

1/11/2012: USA Today - Even without Kardashian, Skechers ad stirs controversy

1/11/2012: Change.org - Skechers on the Run From Dog Racing Super Bowl Controversy

1/11/2012: The Examiner - Help GREY2K USA

1/10/2012: Big Leads Sports - Skechers Super Bowl XLVI Ad With Mark Cuban Attracting Attention For Wrong Reason

1/10/2012: Business Insider - Skechers Defends Super Bowl Ad Featuring 'Cruel' Greyhound Racing

1/10/2012 - USA Today - Kim Kardashian replaced by dog in Skechers Super Bowl ad

2/18/2011: KVOA TV - Group tries to shut down greyhound racing

1/3/2011: Arizona Daily Star - Josh Brodesky: Greyhound Park is a black mark on South Tucson

12/15/2010: Arizona Daily Star - 8 greyhounds die on trip; haulers fined, suspended

11/24/2010: Tucson Weekly - Southside Showdown, Tucson Greyhound Park thumbs its nose at a city ordinance, and officials do nothing


Greyhound Records Released
Report on Greyhound Racing in Arizona (February 2011)
GREY2K USA files complaint against Tucson Greyhound Park (December 2011)


Videos
Tools to Help You Act Locally
Fact Sheet: History of Greyhound Racing in Arizona (1990 - 2008)
Fact Sheet: Commercial Dog Racing in the United States
Helpful Tips: Working with the Media
Helpful Tips: Letters to the Editor
Lobbying 101 (courtesy of HSUS)


State Links & Other Resources
Arizona Department of Racing
Governor's Web Site
Arizona State Legislature
Arizona Daily Star (Newspaper)
Arizona Republic (Newspaper)
Project Vote Smart